EcoFlow DELTA 1000 Portable Power Station 1600W 1008Wh
Regular price
$579.00 USD
Regular price
$799.00 USD
Sale price
$579.00 USD
Unit price
per
ON SALE
Sold out
Availibility: 5 In Stock
LOWEST PRICE PROMISE - In the rare scenario that you find this item cheaper elsewhere, please let us know. We will beat the price in most cases!

Click to read our Lowest Price Guarantee details.
FREE SHIPPING. Estimated delivery date is 3-10 days from the order date. We will email you tracking number once your order is shipped.

Click to read our detailed Shipping Policy.
Share
EcoFlow DELTA 1000
High Performance, Huge Capacity and Handy - DELTA 1000 is a portable power station with 1008Wh capacity, 1600 Watt rated AC output (3100W surge) to meet different kinds of electricity demands for home backup, outdoor camping, RV/van, long road trips.
Pure Sine Wave and Multiple Power Outlets - DELTA 1000 features 6* AC PURE SINE WAVE outlet (100V-120V, 1600W, 3100W Surge), 2*USB-C port, 2* USB-A ports, 2*USB-A fast charge and 1* standard DC 13.6V port - power your smartphone, laptop, camera, drones, in-car appliances, refrigerator, blender and more at anytime without worry.
X-Stream technology for rapid charging from AC output– EcoFlow's patent X-Stream technology enables DELTA 1000 to charge upto 80% in 1 hr and get fully charged in 1.6 hrs from AC output.
Solar Generator – DELTA 1000 has multiple charging options and can be charged from AC outlet, solar panel or car outlet. You can use it a solar generator for clean solar charging and get up to 400W input with MPPT optimization.
Safety First - A portable power station with rugged design and BMS protection to keep you safe. Monitors voltage, current, short circuit and temp in real time.
Specifications

General
Capacity: 1008Wh, 50.4V
Net Weight: 30.9lbs (14kg)
Dimension: 15.7 x 8.3 x 10.6 in (40 x 21 x 27 cm)
Charge Temperature: 32 to 113°F (0 to 45°C)
Discharge Temperature: -4 to 113°F (-20 to 45°C)
Output
AC Output (x6): 1600 Watt total (Surge 3100 W), 120Vac (60Hz)
USB-A Output (x2): 5V DC, 2.4A, 12W Max, per port
USB-A Fast Charge (x2): 5V DC,2.4A / 9V DC,2A / 12V DC,1.5A, 18W Max, per port
USB-C Output (x2): 5/9/12/15/20V DC, 3A, 60W Max, per port
Car Power Output (x1): 108.8W, 13.6V DC, 8A max
Input
AC Charge Input Power: X-Stream charge (1000W max)
AC Charge Input Voltage: 100-120Vac (50Hz/60Hz)
Solar Charge Input: 400W 10-65V DC 10A max
Car Charger: 12V/24V DC 8A max
Charging
Charge Method: AC Wall Outlet, 12V Car Adaptor, Solar Panel
Full Recharge Time: 1.6 Hours (AC), 10.5 Hours (12/24V Car Adaptor), 2.6-5.3 Hours (Using 3x 160W Solar Panels), 3.2-6.3 Hours (Using 1x 400W Solar Panel)
Battery
Cell Type: Lithium-ion
Cycle Life: 500 cycles to 80%+ capacity
Management Systems: BMS, Over Voltage Protection, Overload Protection, Over Temperature Protection, Short Circuit Protection, Low Temperature Protection, Low Voltage Protection, Overcurrent Protection.
Cell Type: 18650
Click to view EcoFlow DELTA 1000 Portable Power Station 1008Wh User Manual
Package Contents
What's in the Box? 
Warranty
24 months warranty by the manufacturer
Frequently Bought Together
EcoFlow 400W portable solar panel - You can connect 1x 400W EcoFlow Solar Panel with your EcoFlow DELTA 1000 to fully charge in 3.2-6.3 Hours with full sun.
EcoFlow 220W portable solar panel - Recharge your EcoFlow DELTA 1000 with upto two EcoFlow 220W Portable Solar Panels.
EcoFlow 160W portable solar panel - You can connect 3x 160W EcoFlow Solar Panels with your EcoFlow DELTA 1000 to fully charge in 2.6-5.3 hours with full sun.
Product Gallery
FAQs
What battery does the product use?
It uses high-quality lithium-ion battery.
What devices can the product's AC output port power?
With 1600W rated power and 3100W peak power, the product's AC output port can power most household appliances. Before you use it, we recommend that you confirm the power of the appliances first and ensure the power sum of all loaded appliances is lower than the rated power.
How long can the product charge my devices?
The charging time is shown on the product's LCD Screen, which can be used to estimate the charging time of most appliances with stable power usage.
How can I know if the product is charging?
When it's charging, the remaining charging time will be shown on the LCD Screen. Meanwhile, the charging indicator icon begins to rotate with the remaining battery percentage and the input power shown on the right of the circle.
How to clean the product?
Please gently wipe it with a dry, soft, clean cloth or paper towel.
How to store the product?
Before storing, please turn off the product first, and then store it in a dry, ventilated place at room temperature. Do not place it near water sources. For long-term storage, please discharge the battery to 30% and recharge it to 60% every three months to extend its battery life.
Can I bring the product on a plane?
No.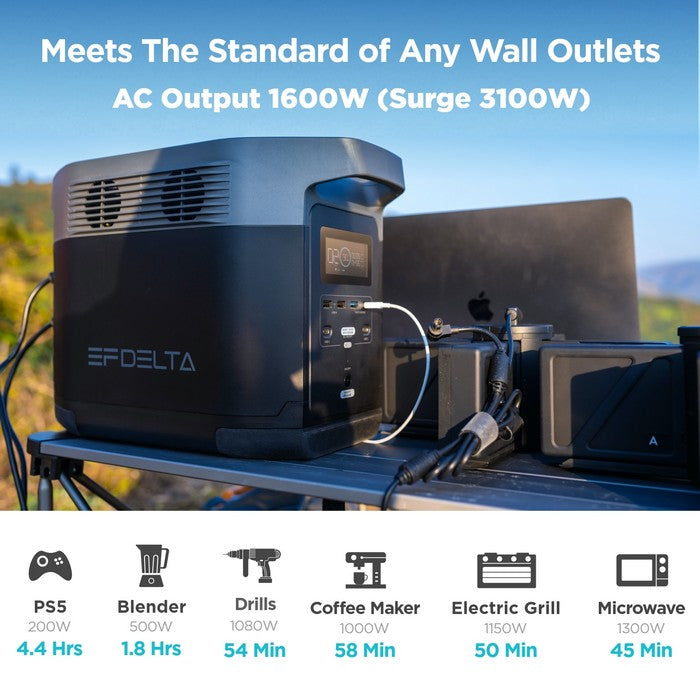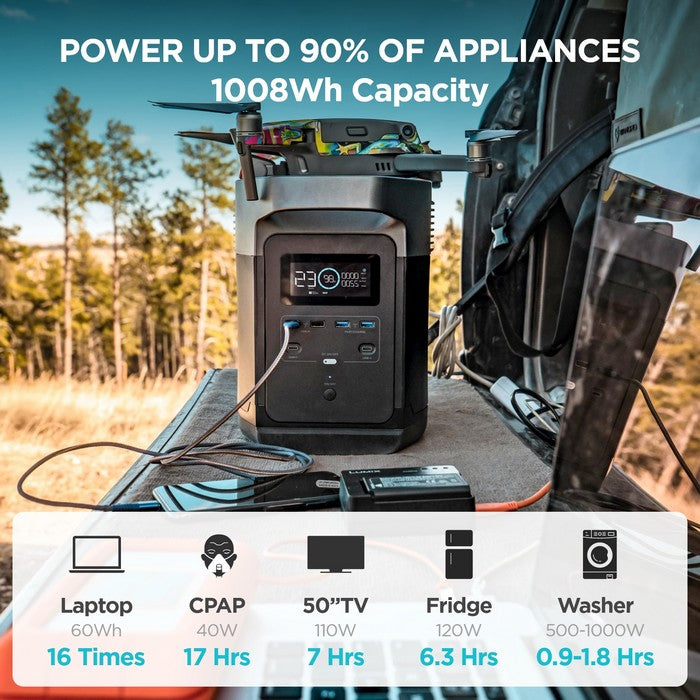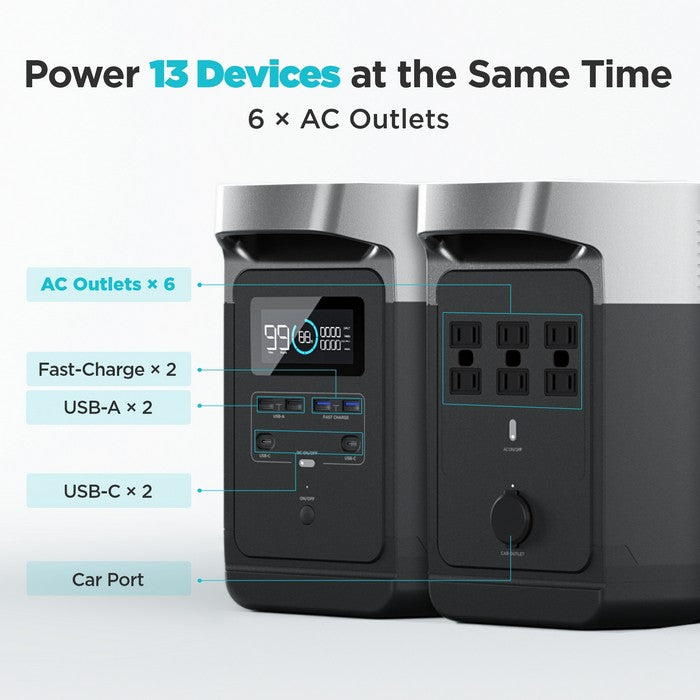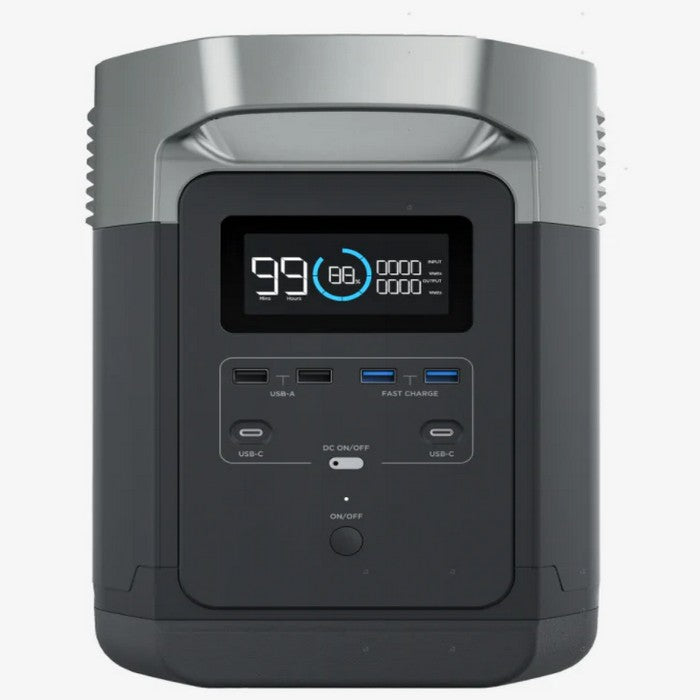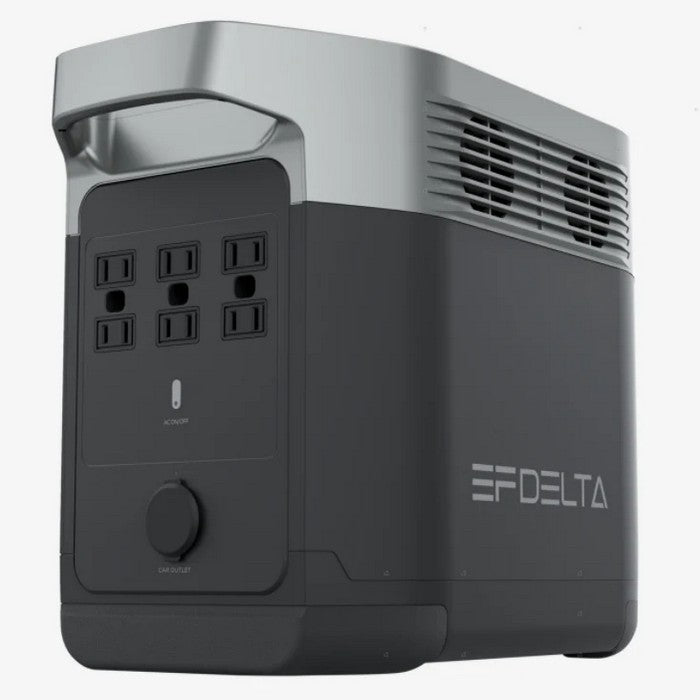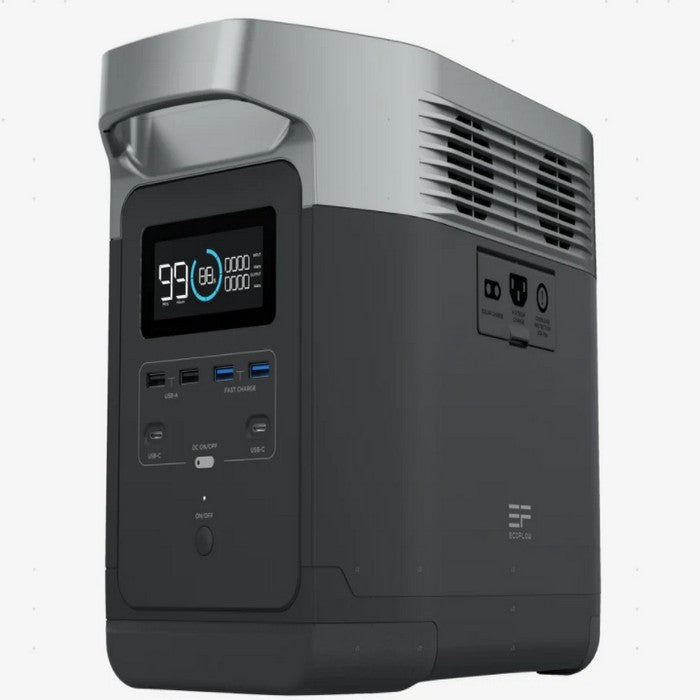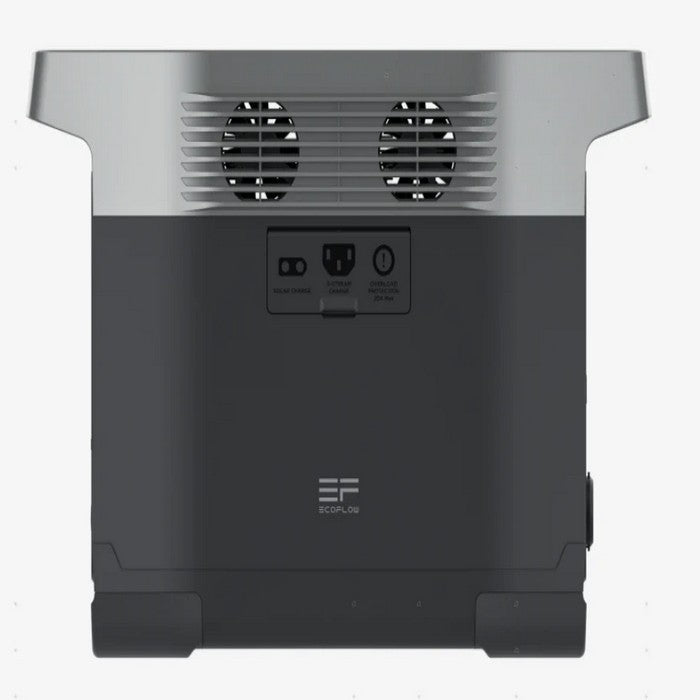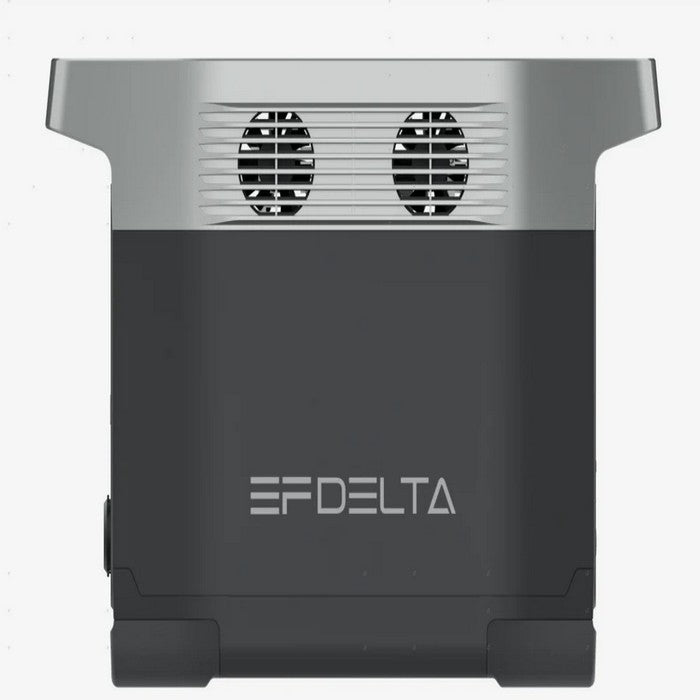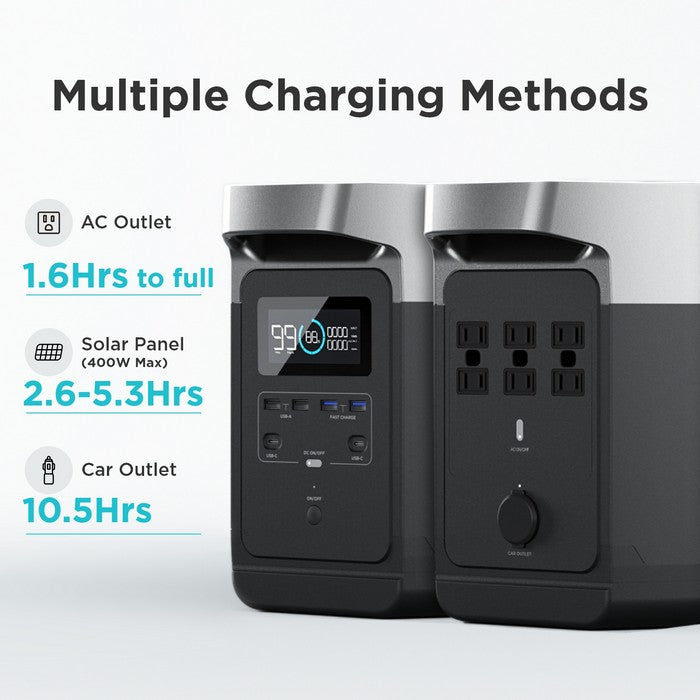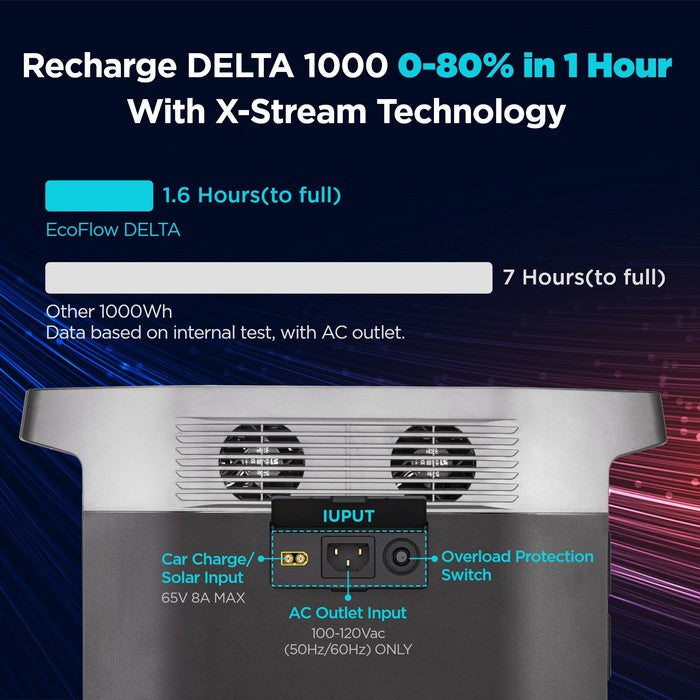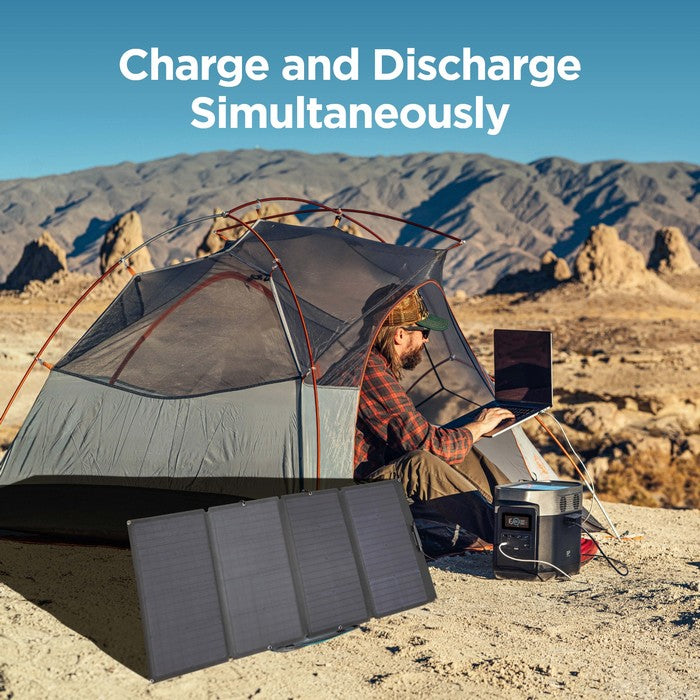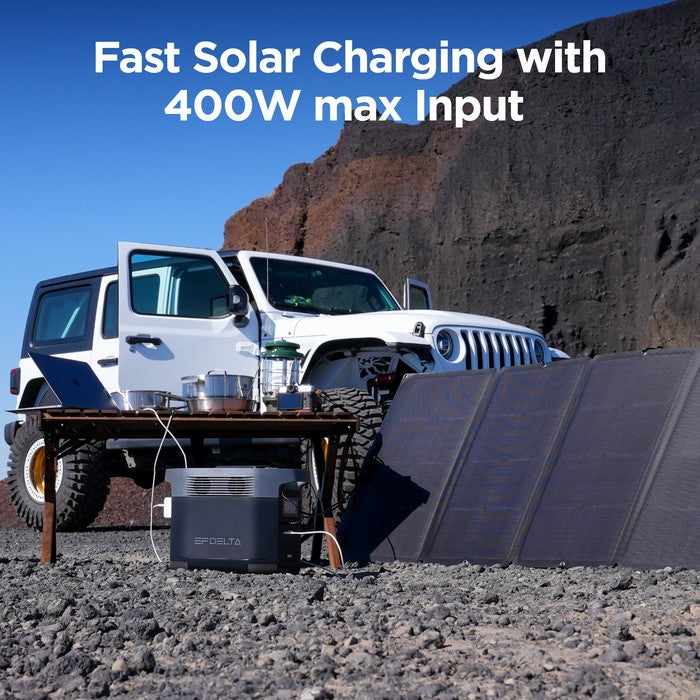 Buying from us is great as you...
...shop from authorized retailer and receive excellent customer service always

...get manufacturer direct orders with all applicable warranties

...avail free and fast shipping as all orders ship from US

...are covered by our 30 days return policy

...pay no extra taxes or hidden charges at checkout

...have the peace of mind of 100% secure checkout