EcoFlow DELTA 2 Max Portable Power Station 2400W 2048Wh ZPPMR350-US
Regular price
$1,489.00 USD
Regular price
$1,899.00 USD
Sale price
$1,489.00 USD
Unit price
per
ON SALE
Sold out
Availibility: 5 In Stock
LOWEST PRICE PROMISE - In the rare scenario that you find this item cheaper elsewhere, please let us know. We will beat the price in most cases!

Click to read our Lowest Price Guarantee details.
FREE SHIPPING. Estimated delivery date is 3-10 days from the order date. We will email you tracking number once your order is shipped.

Click to read our detailed Shipping Policy.
Share
EcoFlow DELTA 2 Max
Solar Generator / Portable Power Station
Premium Lithium Iron Phosphate (LFP) cells for long lifespan of 3000 complete cycles till it's down to 80% capacity - This means if used once a day, it can be safely used for about 10 years! Have extra peace of mind with EcoFlow's 5 Years Warranty.
Power 99% of Essentials with Industry-leading X-Boost Technology - Huge 2400W output. 15 outlets to power multiple devices at once. That means during a power outage or blackout, you can continue to run your fridge, microwave, dryer, and more. Further using  its X-Boost mode, you may even run some high-wattage devices and appliances up to 3400W. Ideal power generator for backup power.
Large expandable 2048Wh capacity that can easily be tripled - DELTA 2 Max offers a large 2048Wh capacity by itself, expandable to 4096Wh by adding one DELTA 2 Max extra battery or even 6144 (triple) by adding two units of DELTA 2 Max extra battery together making it a great home backup option.

Charge from AC, solar, car or EcoFlow Smart Generator to charge up during extended blackouts. You can even fast charge combining both AC + solar charging together!
Fastest AC + Solar dual charging: Charge to 80% in 43 min with combined solar and AC input. Fully charge in about 1 hour.
Extremely fast AC charging

 

with X-Stream technology: Charge 0-80% in 68 min (1.1 hour) using standard AC wall outlet.
Fast Charging using clean solar energy: Fully charge with up to 1000W solar input in only 2.3 hours.
Connect DELTA 2 Max with the EcoFlow app to customize settings and do smart, easy and efficient energy management for DELTA 2 Max even from far -

Have extra peace of mind by using smart automatic control feature in the app that will start and end AC charging only during a certain time and avoid peak rates.
Save more on electricity bills by prioritizing use of solar energy through the app when using AC + solar dual charging.
Easily adjust the AC charging speed, get low battery power notification, monitor data plus do a lot more via the app.
Ultra-fast home backup switchover time with <30ms EPS auto-switch - DELTA 2 Max works as an EPS (emergency power supply) and when a blackout occurs, it automatically switches to battery power in less than 30ms ensuring a constant power supply to your devices.
At 23kg (51lbs), DELTA 2 Max is 30% lighter than the other portable power stations with similar output and capacity.
No fumes, no noise, no maintenance, say goodbye to gas generators - DELTA 2 Max is a clean and eco-friendly alternative to gas generators. With no fuel to refill, no filters to change and no mechanical parts that need constant maintenance, you can use it worry free for upto 10 years for quiet, safe indoor or outdoor operation and  lower your energy bills!
Specifications 
GENERAL
Capacity: 2048Wh (expandable up to 6144Wh with 2 units of DELTA 2 Max Smart Extra Battery)
Weight: Approx. 50lbs (23kg)
Dimensions: 497×242×305 mm (19.6×9.5×12 in)
Connectivity - Wi-Fi & Bluetooth
OUTPUT
AC Output (×6): Pure Sine Wave, Total 2400 Watt (Surge 4800 W)
Max X-Boost Output Power: 3400W
USB-A Output (×2): 12W max per port, 5V DC, 2.4A, 24W total
USB-A Fast Charge (×2): 18W max per port, 5V DC,2.4A / 9V DC,2A / 12V DC,1.5A, 36W total
USB-C Output (×2): 100W max per port, 5V/9V/12V/15V/20V DC, 5A, 200W total
Car Power Output (×1): 126W max, 12.6V DC, 10A
DC5521 Output (×2): 12.6V DC, 3A, 38W max per port
INPUT
AC Charge Input Power: X-Stream Fast Charge 1800W Max, 15A
AC Charge Input Voltage: 100-120Vac (50Hz/60Hz)
Solar charging input (x2): 11-60V DC, 15A, single port 500W; dual port 1000W
Car Charger Input: Supports 12V/24V Battery, default 8A
BATTERY
Cell Type: LFP
Life Cycle: 3000 Cycles to 80%+ capacity
Protection: Over Voltage Protection, Overload Protection, Over Temperature Protection, Short Circuit Protection, Low Temperature Protection, Low Voltage Protection, Overcurrent Protection
Click here to view EcoFlow Delta 2 Max User Manual
Package Contents
DELTA 2 Max Power Station x 1
AC Charging Cable x 1
Car Charging Cable x 1
DC5521 to DC5525 Cable x 1
User manual & warranty card
Warranty
Have peace of mind with EcoFlow's 5 Years Warranty - one of the longest in the industry.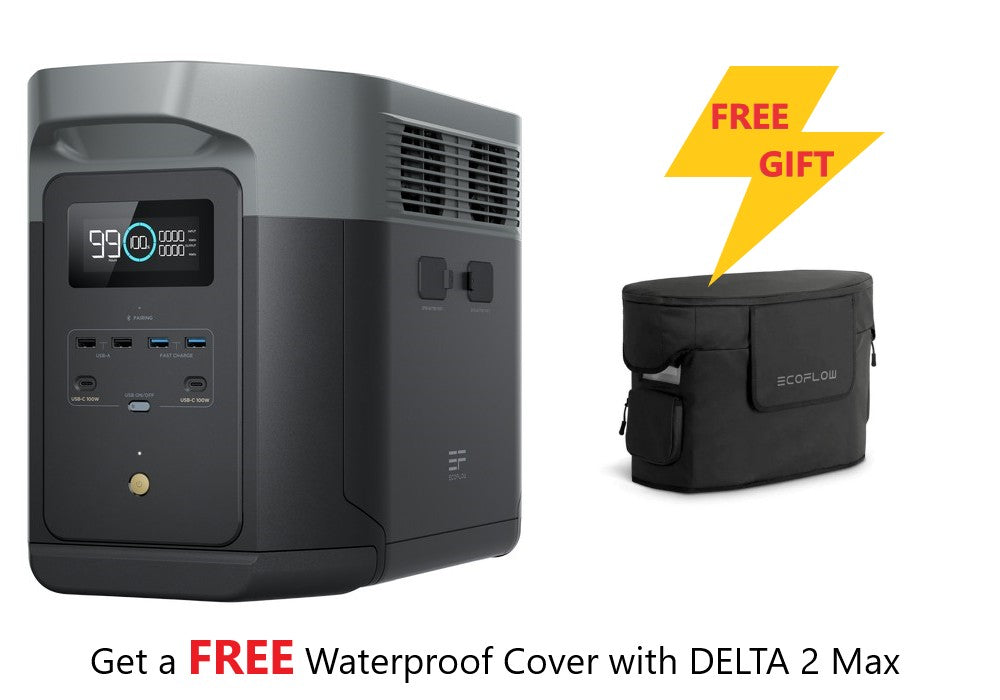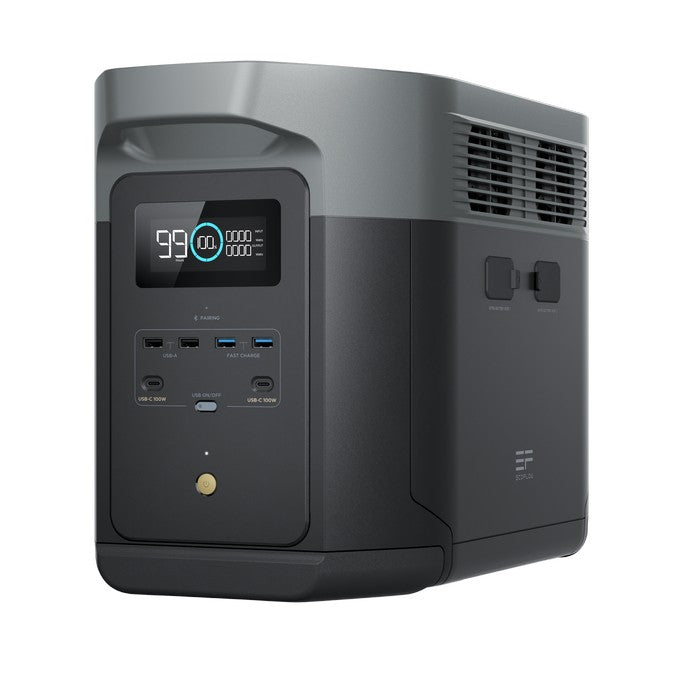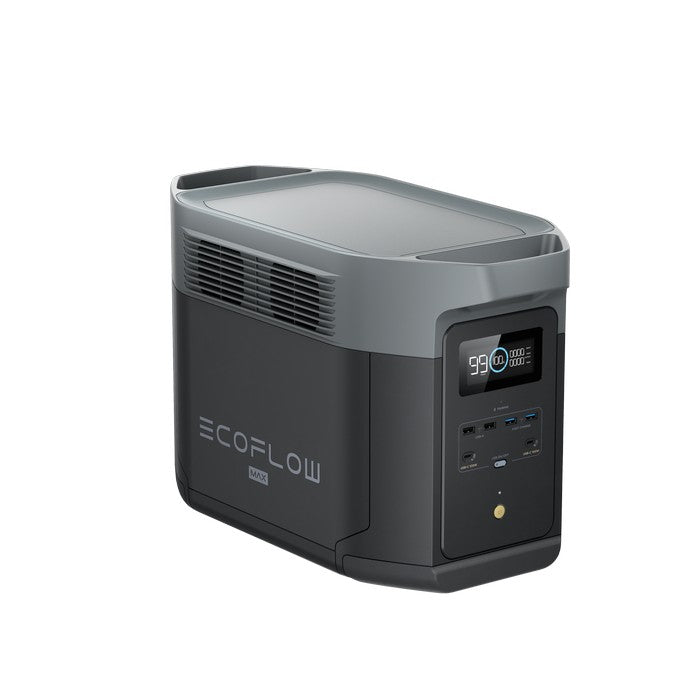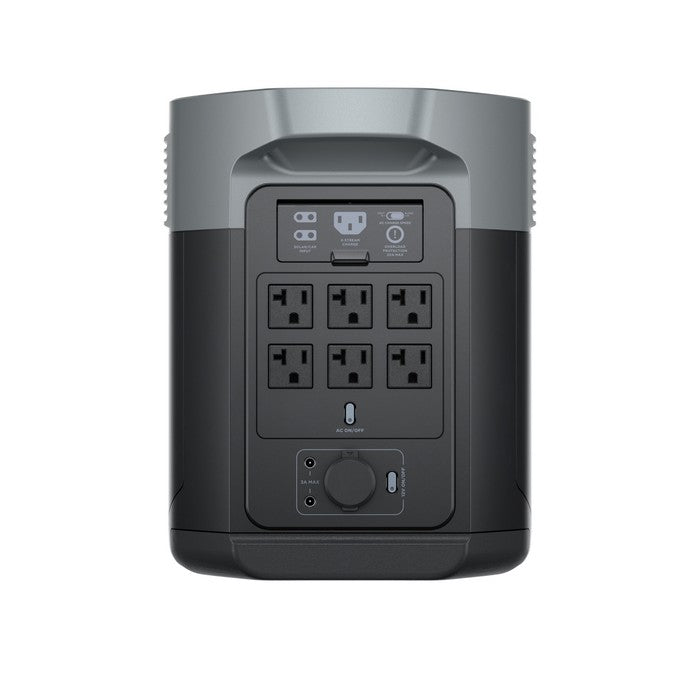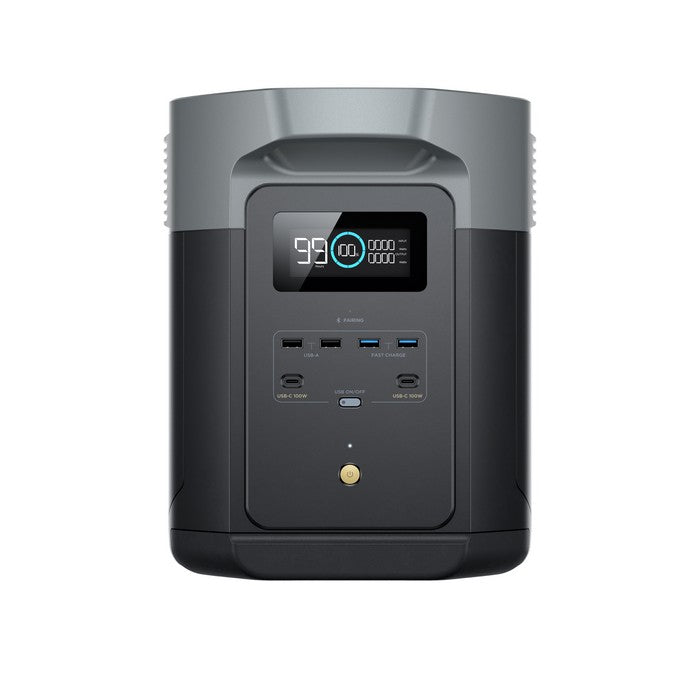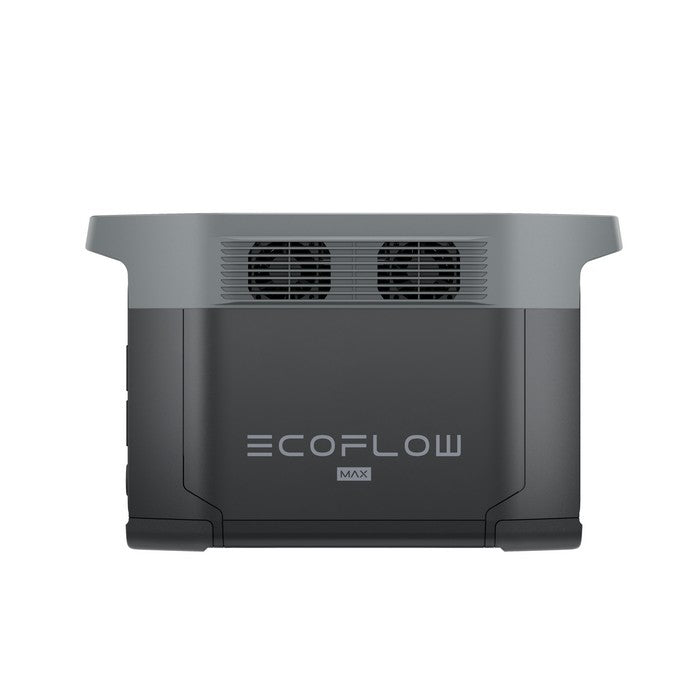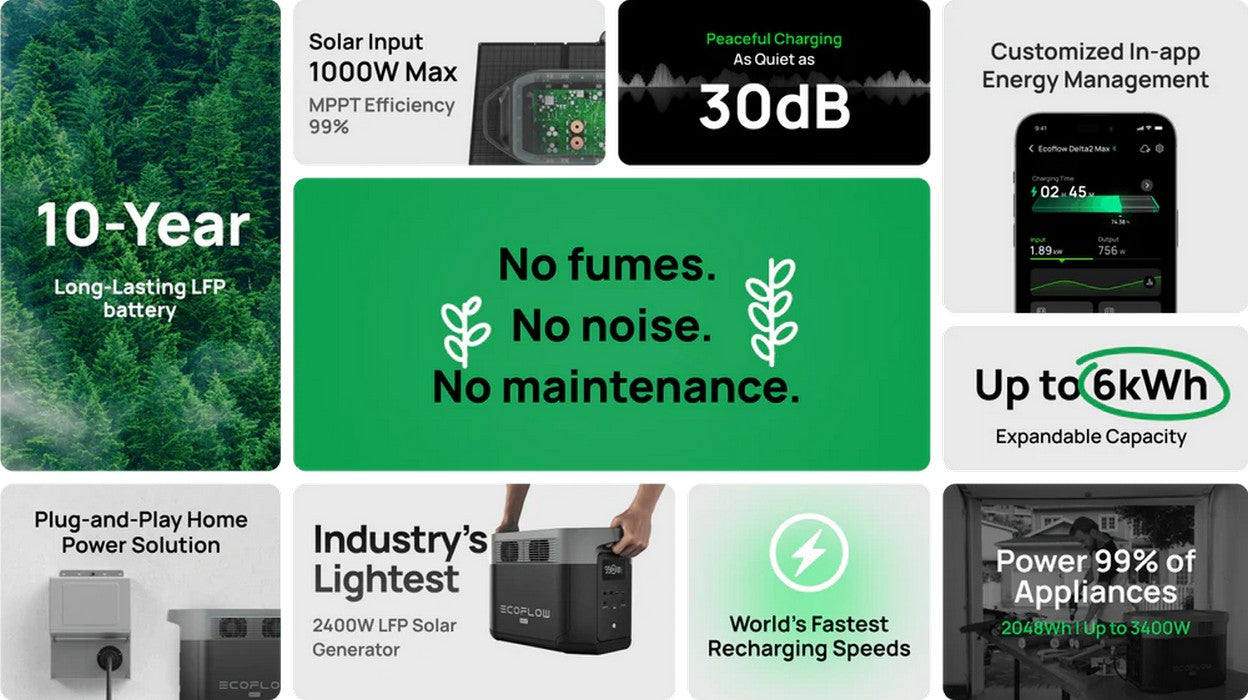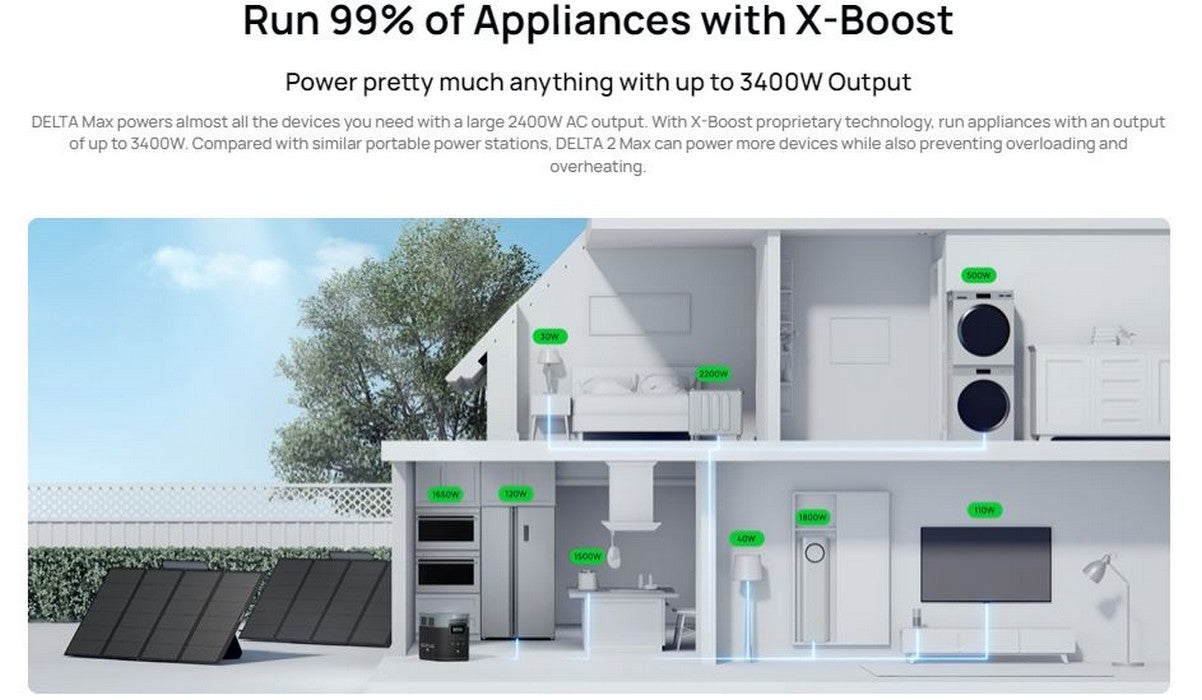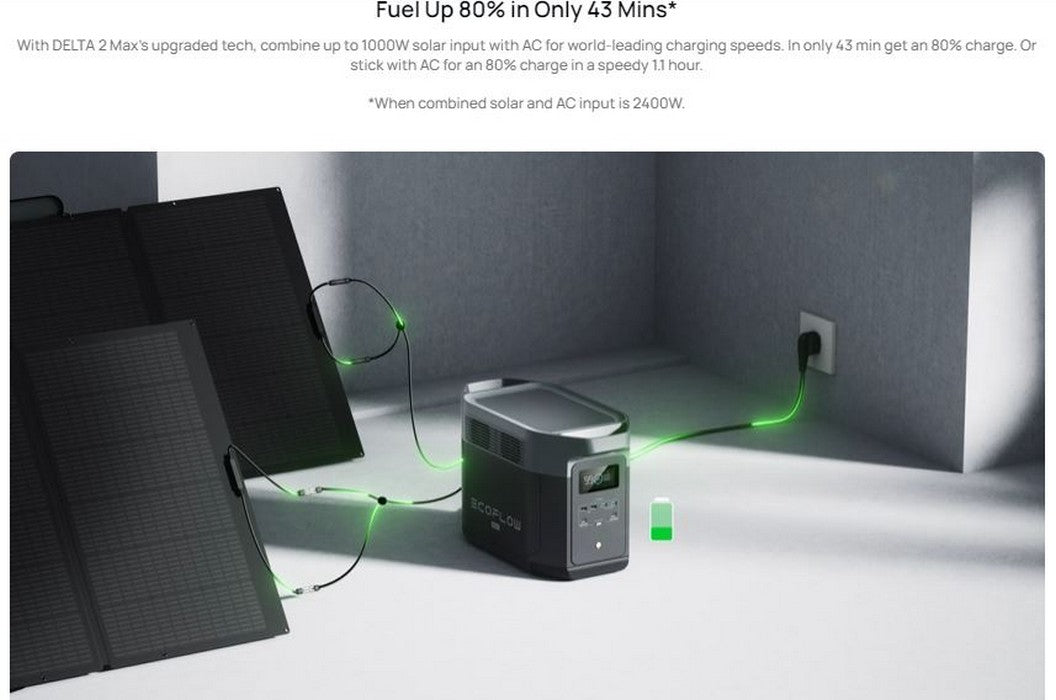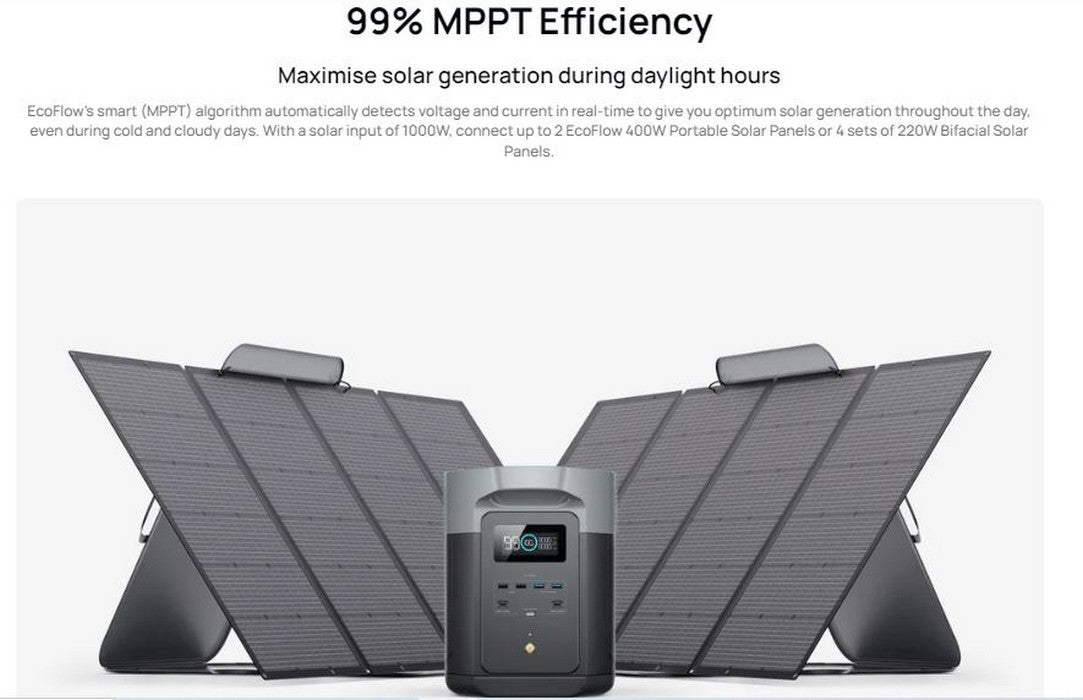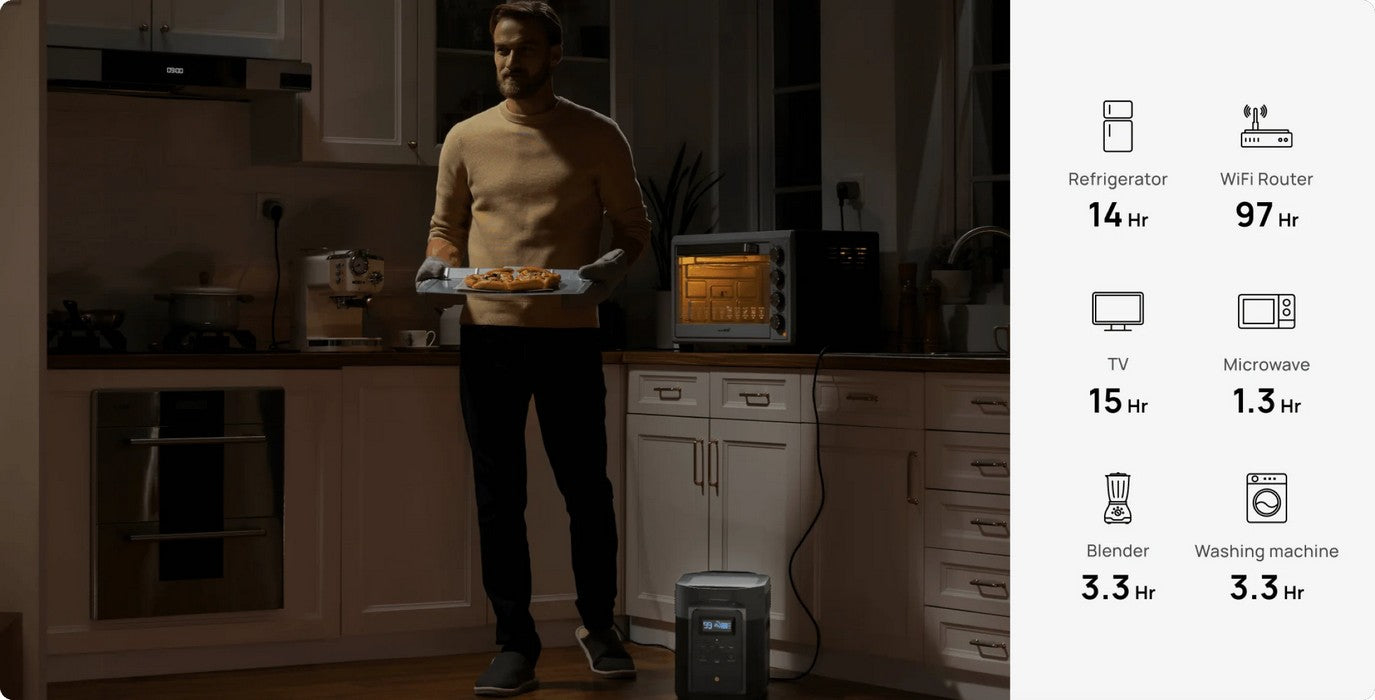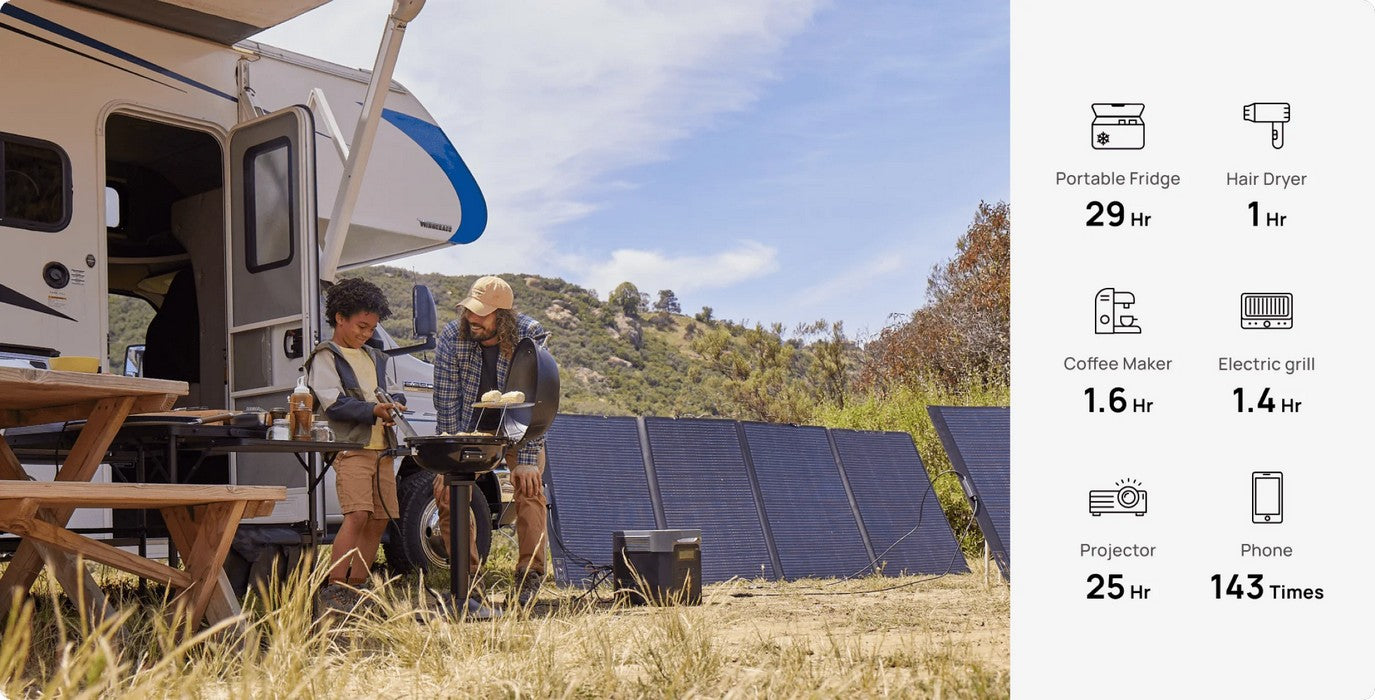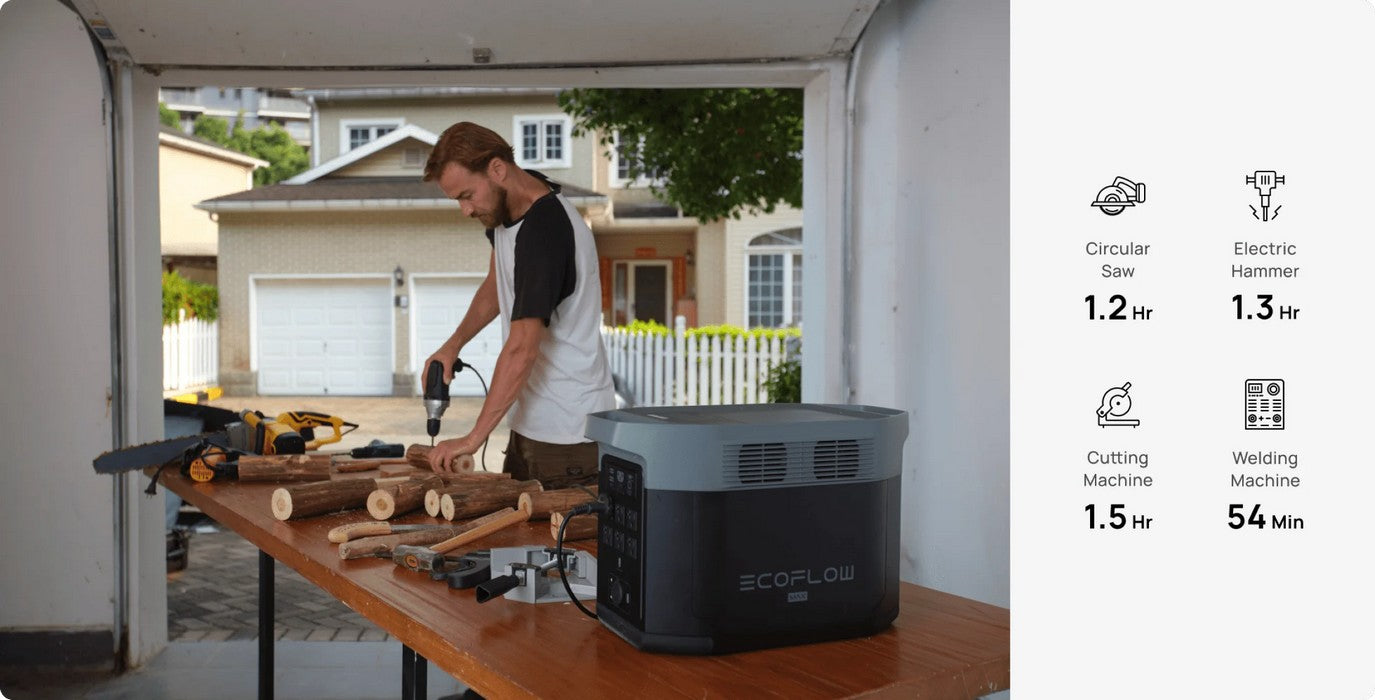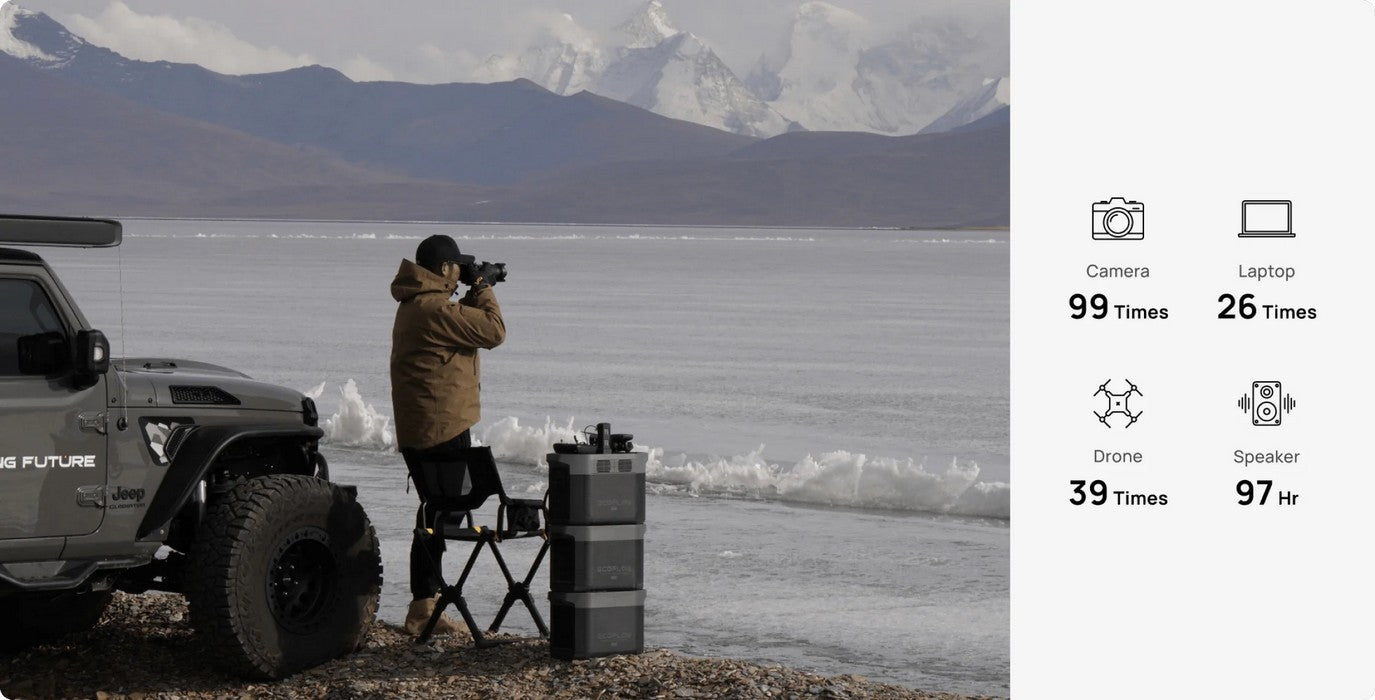 Great Price, Great Service, Great Product!
The service was professional and courteous.
Ecoflow Delta 2 Max arrived quickly in perfect shape.
Love how it works!
Very scalable, easy to use, not too heavy.
Will be adding an extra battery very soon!
Extremely Necessary for my Husband
My husband has Multiple Sclerosis and he is almost quadriplegic.
He need some medical equipment like Oxigen concentrator, feeding pump, suction machine, electric bed.
I bought a Delta Max 2 for use his Oxigen Concentrator in a emergency situation.
It will help a lot
We have a Ecoflow smart generator for charge it.
And we can use with a portable AC for help the airconditioner in a very hot days.
Very happy with that power station.
I really recommend 👌
Sexy Power Station!
The Delta 2 Max has great versatility. I'll use it for camping and emergency back up power. It charged up quickly and had my portable fridge working for days. I like the compact sturdy build and the capacity to expand as my budget permits.
Buying from us is great as you...
...shop from authorized retailer and receive excellent customer service always

...get manufacturer direct orders with all applicable warranties

...avail free and fast shipping as all orders ship from US

...are covered by our 30 days return policy

...pay no extra taxes or hidden charges at checkout

...have the peace of mind of 100% secure checkout