AIMS Power 6000W Inverter Charger 24Vdc / 240Vac Input & 120Vac / 240Vac Split Phase Pure Sine Output PICOGLF60W24V240VS
Regular price
$1,786.00 USD
Regular price
$2,036.00 USD
Sale price
$1,786.00 USD
Unit price
per
ON SALE
Sold out
Availibility: 3 In Stock
LOWEST PRICE PROMISE - In the rare scenario that you find this item cheaper elsewhere, please let us know. We will beat the price in most cases!

Click to read our Lowest Price Guarantee details.
FREE SHIPPING. Estimated delivery date is 3-10 days from the order date. We will email you tracking number once your order is shipped.

Click to read our detailed Shipping Policy.
Share
Most Popular Feature is its 3x surge capability for upto 20 seconds - This inverter has a direct connect terminal block, which allows a 300 percent surge capacity for up to 20 seconds. When using the terminal block, this inverter peaks at 18000 watts for up to 20 seconds with the power to run many tools and appliances with startup surges, such as refrigerators, freezers, microwaves and blow dryers.
6000 watt 110 Vac / 220Vac Split Phase - This 6000 watt inverter charger produces a pure sine wave, which some appliances require for use. It can run laser jet printers, computers, televisions, CPAP machines and other medical equipment. 
Renewable Solar, Off-Grid Home and Business Back-up Power, Mobile and Emergency Back-up Power for applications anywhere that uses 110 / 120 volts OR 220 / 230 / 240 volts of alternating current - This inverter will run powerful tools like most electric chainsaws, portable grinders, shop vacs, and more. Other popular applications for this inverter include powering lights and other appliances in an off-grid cabin, providing electricity for a mobile business or mobile office, and running camping equipment. The inverter accepts 24 volts DC, which makes it great for vehicle upfitting as well as boat and RV applications that use a 24 volt battery system.  The inverter outputs 120V / 240V AC.
Low Frequency Label Inverter - A low frequency label has been given to this inverter because of the lowered level of total harmonic distortion (THD) produced during the DC to AC inversion process. This allows for a cleaner transfer of energy, which increases efficiency, and it also provides a quieter performance.
Automatic Transfer Switch on this unit great for emergency backup power applications - Automatic Transfer Switch keeps the power supply uninterrupted in the event of an outage. With the inverter hooked up to shore power, it will detect the loss of electricity and start pulling energy from a connected battery bank instead to keep the power supply constant. During a big storm that knocks out electricity, a battery-bank and power inverter running a sump pump could be the difference that saves a home from flooding. The power to run a heater could save someone thousands of dollars by keeping plumbing pipes from freezing.

60hz or 50hz selectable dip switch - This inverter can output 50 or 60Hz via the SW4 switch on the product. This means the inverter works internationally and is operable with nearly any electrical system on the planet! 
Multi stage smart charger 85 Amp charges gel, Lead, AGM, Lithium batteries. This inverter charger can utilize 240 V grid power to charge the batteries. The current control switch allows you to control the amount of current going into the batteries
8 battery charger settings
10msec typical transfer time
Selectable 25W power save mode (hibernation)
Battery Priority Selector - Though the inverter charger is designed with AC priority as default, switch SW5 on the inverter enables the users to select battery priority mode. This battery priority mode allows you to choose your battery bank over the grid so you can use the renewable power you were harvesting before going back to utility power.

Safety Features like GFCI
Marine Coated and Protected - The marine-coated or conformal-coated boards also make this inverter great for mobile applications, as it protects the product from dust or water vapor that may be present in the air.
Built-in Auto Gen Start Feature - Using a two wire open and close relay, it will automatically start your generator when your battery voltage drops low enough to alarm. The generator can then recharge your batteries while maintaining constant power. 
Option to connect Battery temp sensor - You can connect an optional battery temp sensor to this inverter charger to monitor your battery bank and adjust the voltage and current of the charger based on the battery temperature.  This helps preserve and extend battery life. Click here to purchase the Battery temp sensor.
Optional LCD Remote Port - Enables you to connect an optional LCD remote panel to monitor many functions on the inverter from a distance. LCD remote panel is sold separately. Click here to purchase the LCD remote panel.

Specifications
 Inverter Output Specifications:
Continuous Output Power: 6000 Watts
Surge Rating: 18000 Watts (20 Seconds)
Output Waveform: Pure Sine/Same as input (Bypass Mode)
Nominal Efficiency: >88% (Peak)
Line Mode Efficiency: >95%
Output Frequency: 50Hz +/- 0.3Hz / 60Hz +/- 0.3Hz
Typical Transfer Time: 10ms (Max)
THD: < 10% DC
Ambient operating temperature: 14°F to 122°F (-10°C to 50°C)
Input Specifications:
Nominal Input Voltage: 24V dc
Low Battery Alarm: 21.0Vdc-22.0Vdc
Low battery Trip: 20.0Vdc-21.0Vdc
High Voltage Alarm: 32.0 Vdc
Low battery Voltage Restart: 26.6Vdc
Idle Consumption: 76.8 Watts
Idle Consumption in Power Saver Mode: 29 Watts
Charger Specifications:
Output voltage: Depends on battery Type
Charger Rate: 85A
Dimensions:
Unit Weight: 79 lbs.
Unit Size L x W x H: 27.88 x 8.5 x 7.0 inches
Click to view User Manual - 6000 Watt Pure Sine Inverter Charger 24Vdc / 240Vac Input & 120/240Vac Split Phase Output

 Package Contents
The PICOGLF Inverter Charger
Red and black DC terminal covers
AC terminal block cover with two Phillips screws
Two Flange nuts and 4 Phillips screws (installed on the DC terminals)
PICOGLF Series Owner's Manual
Warranty
1 Year Limited Warranty by the Manufacturer
Please refer below for more details on manufacturer's warranty -
All AIMS Power™ products come with warranty coverage against manufacturer defects as follows, from the date of purchase, unless otherwise indicated. 

1-Year for non ETL (Extract, Transform and Load) units

2-Years for ETL (Extract, Transform and Load) units and batteries

3 Years for generators

Batteries – product specific

Solar products – product specific

Cables - 10 years
Within the warranty coverage period, AIMS Power™ will either repair or replace, at its sole discretion, the defective product. A restocking fee may be applied if used or missing packaging and/or parts are not returned. Limited and prorated warranties on some products. Any shipping charges that occur as a result of a warranty return or exchange are NOT covered by the warranty and are the responsibility of the customer.

The warranty does not cover the following:

Products that AIMS Power™ determine, in its sole discretion, to be free of any material or workmanship defects or flaws

Products evidencing excessive wear, misuse or alteration

Products with missing or defaced labels, stickers, or other identifying information

Improper care or storage (e.g. water damage, exposure to extreme heat or cold temperatures, unsanitary environment)

Alterations or customizations

Items that were purchased second hand, or from an unauthorized seller

Items outside of the covered warranty period
Warranty Return Process
It is our goal at AIMS Power™ to provide a comprehensive and hassle-free return and exchange process. As such, please review the below process before initiating warranty claim.

Contact AIMS Power™ via phone or email to submit your warranty return request and obtain a Return Merchandise Authorization (RMA) number.
Note: Be sure to provide the name from the original order as well as a copy of your receipt. Include a detailed description of the problem.

An automated email will then be sent to the address indicated on the warranty return request containing further instructions regarding packing, shipping and documentation to include when returning the product as well as an RMA authorization number.

Once the return is received and inspected an e-mail will be sent informing you that the return has been approved and processed. If there are any issues with the return, an additional e-mail will be sent notifying you of such.
Other Items of note:
AIMS Power™ DOES NOT cover return shipping.

Any Product that is returned and deemed to be of working condition or was returned without all of the required information, and the customer has not paid for return shipping, may be disposed of or destroyed after 90 days.

Any requested information that is not provided in a timely manner could result in delayed processing of your return.

When shipping the product for a return:

Ensure the product is packed accordingly to avoid being damaged in-transit. Include original packaging. Use proper protective material to ensure package arrives without damage.

Ensure some form of shipment tracking is used.

It is strongly recommended to insure the shipment.

AIMS Power™ is not liable for products that are lost or damaged in-transit.

The RMA authorization email will indicate what, if any, other product contents need to be sent in with the returned product.
For any other questions please contact us via phone or email.
Frequently Bought Together
LCD Remote Panel REMOTELF - $211.00 - Connects to this inverter to monitor many functions on the inverter from a distance.
Battery Temperature Sensor PICGLFBATS - $45 - Connects to this inverter charger to monitor your battery bank and adjust the voltage and current of the charger based on the battery temperature. 

 This helps preserve and extend battery life.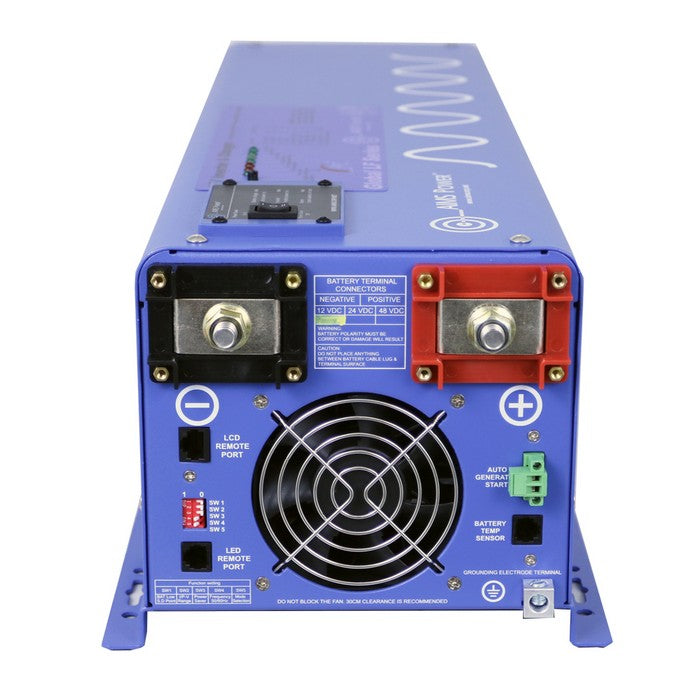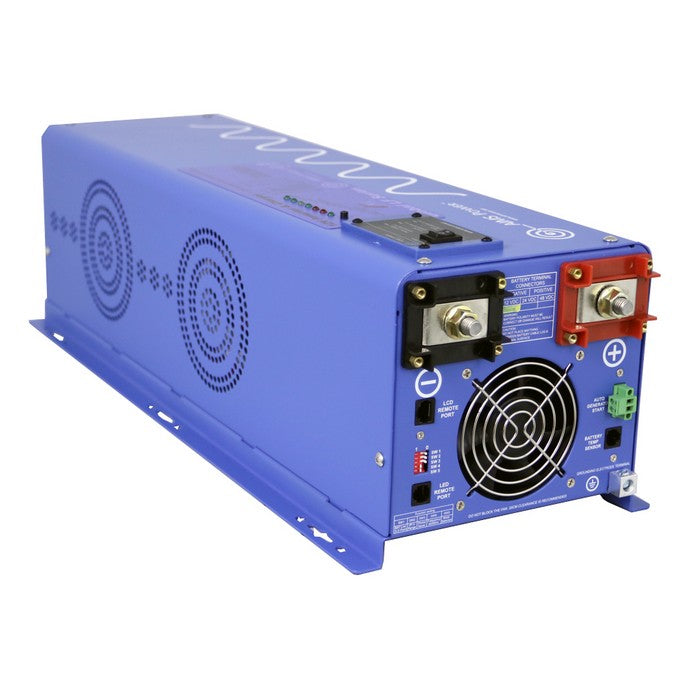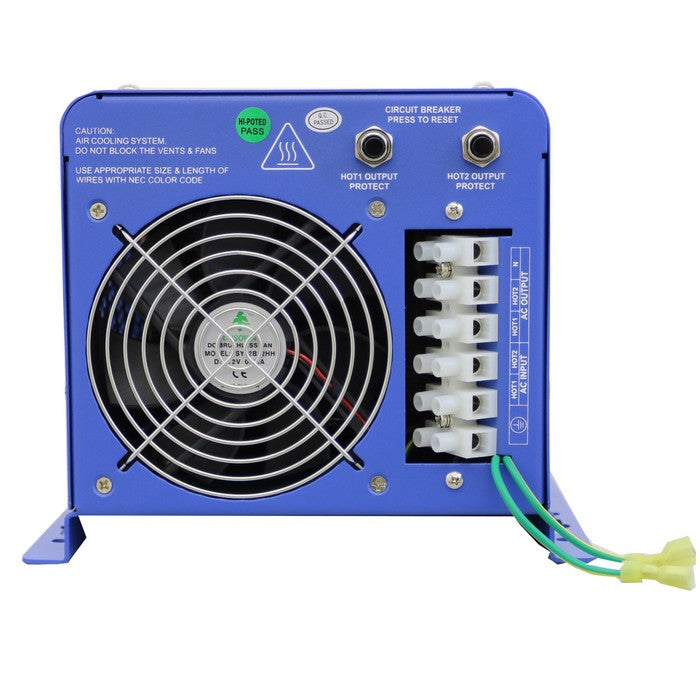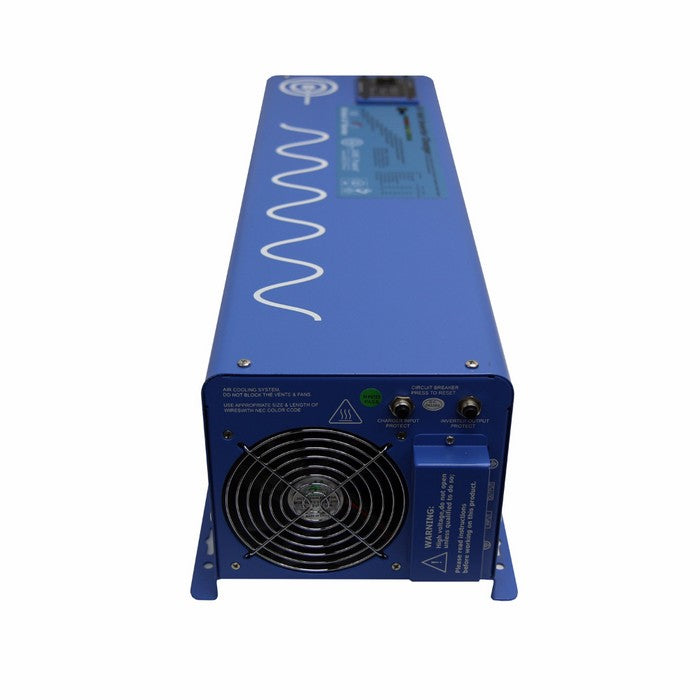 Buying from us is great as you...
...shop from authorized retailer and receive excellent customer service always

...get manufacturer direct orders with all applicable warranties

...avail free and fast shipping as all orders ship from US

...are covered by our 30 days return policy

...pay no extra taxes or hidden charges at checkout

...have the peace of mind of 100% secure checkout